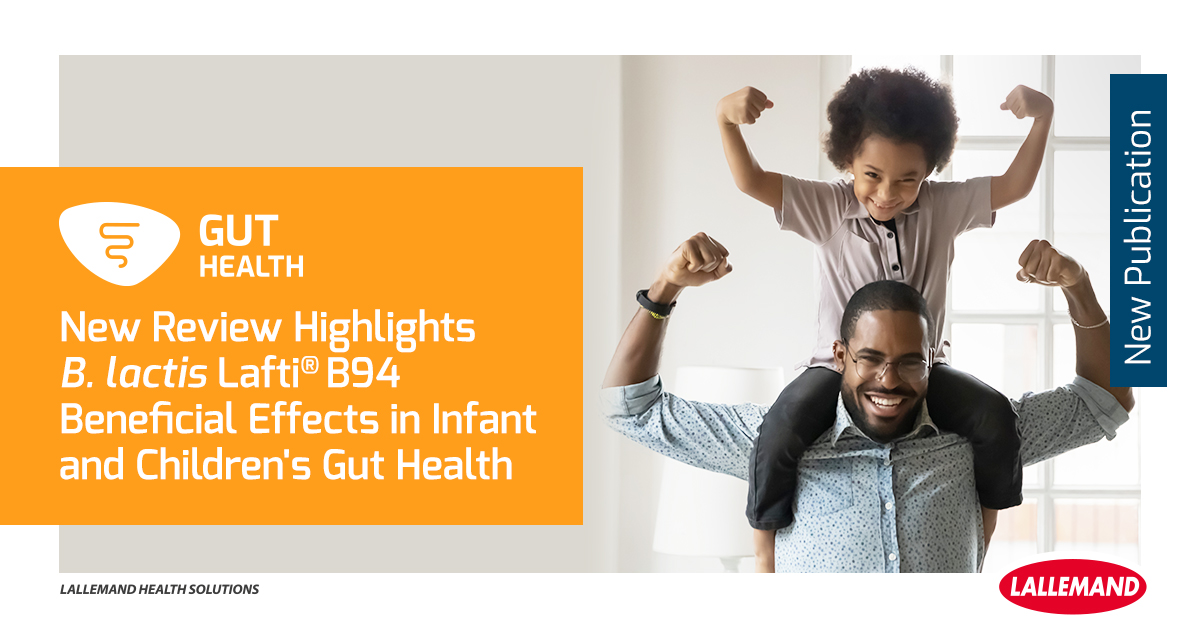 New Review Highlights B. lactis Lafti® B94 Beneficial Effects in Infant and Children's Gut Health
A new comprehensive review reaffirmed the significant benefits of the probiotic bacterial strain B. lactis Lafti® B94, whether used alone or as a synbiotic, for promoting gut health in infants and children. The review emphasizes on the strain's robust safety profile and the wealth of scientific data supporting its use for children's optimal development.
"Bifidobacteria are naturally prevalent in microbiota in early life. A healthy balance in the gut microbiota is important in maintaining and supporting newborns' and infants' gut health. This review summarizes the preclinical and clinical evidence available on B. lactis Lafti® B94 and describes its role in pediatric populations in various indications. B. lactis Lafti® B94 is a Generally Recognized as Safe (GRAS) notified for use in non-exempt infant formula from birth, reaffirming its safe use in pediatric population." Summarizes the review corresponding author Sylvie Binda, Vice President of Research and Development at Lallemand Health Solutions.
Key Study Findings
The review discusses potential mechanisms of action and presents results from nine clinical studies on pediatric populations that highlight the strain's efficacy in safely supporting infants' gut health, promoting gut comfort, and improving gut transit in times of occasional diarrhea and constipation. Moreover, studies on H. pylori and antibiotic-associated diarrhea demonstrate the potential for B. lactis Lafti® B94 to help as an adjuvant and reduce side effects. Based on this solid scientific background, B. lactis Lafti® B94 has received the following Canadian health claims: From birth, B. lactis Lafti® B94 supports intestinal and gastrointestinal health, could promote a favorable gut flora, and participates in a healthy microflora balance. Starting from the age of 4, it helps relieve abdominal discomfort, such as bloating and constipation, and helps children and adolescents with bloating and constipation in irritable bowel syndrome. In the USA, these scientific findings allow the following structure/function claim: helps with occasional bloating and constipation and supports overall gastrointestinal discomfort.
For the complete publication, please visit Microorganisms | Free Full-Text | Review and Perspectives on Bifidobacterium lactis for Infants' and Children's Health (mdpi.com).
About Lallemand Health Solutions
Lallemand Health Solutions is a pioneering company recognized as a vertically integrated global leader in manufacturing probiotic yeast and bacteria-based formulas. These formulas are designed for human health supplements, food applications, and nutricosmetics. Lallemand Health Solutions' probiotics are documented to deliver benefits in gut health, immune support, mental well-being, women's health, skin care, oral health, and metabolic health. With manufacturing processes adhering to the highest quality standards, including Good Manufacturing Practices, and an ambitious research program, Lallemand Health Solutions provides partners with probiotic strains that enhance life in countless ways. Currently, over 600 probiotic formulas are marketed in over 60 countries across five continents.
Press Contact
Marilou Luneau, Communications Manager
Lallemand Health Solutions
mluneau@lallemand.com