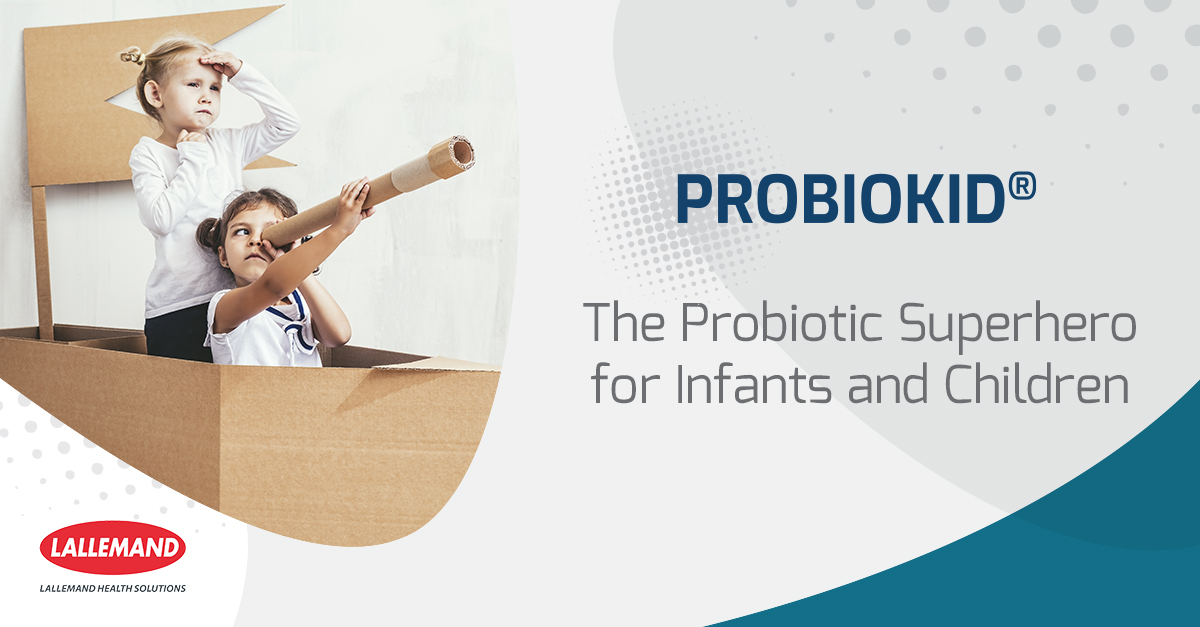 Efficacy of a multi-strain probiotic formulation in pediatric populations: A comprehensive review of clinical studies
Lallemand Health Solutions' Probiokid®, the world's best-selling pediatric probiotic formulation, makes the scientific news with its most recent review: "Efficacy of a multi-strain probiotic formulation in pediatric populations: A comprehensive review of clinical studies[1]" published on June 1st, in Nutrients.
 This comprehensive review summarizes the clinical studies in infants and children, including the safety studies, to evaluate the efficacy of Probiokid®, a specific probiotic for pediatric indications combining Lactobacillus helveticus Rosell®-52, Bifidobacterium infantis Rosell®-33, Bifidobacterium bifidum Rosell®-71 and fructooligosaccharides. With a total of 28 clinical studies, Probiokid® is one of Lallemand Health Solutions most documented probiotic formulation which can be marketed under different product categories, for different uses, depending on applicable regulatory provisions. The main evidence comprises:
Twelve studies show that the probiotic significantly increases the efficacy of standard diarrhea treatment regardless of etiology, reducing the risk of unresolved diarrhea (RR 0.31 [0.23; 0.42]; p< 0.0001) by 69%.
In eight studies, the probiotic enhanced immune defenses, assessed by levels of various immune competence and mucosal immunity markers (six studies), and reduced the incidence of common infections (two studies).
The probiotic improved iron deficiency anemia treatment efficacy (three studies), reducing the risk of unresolved anemia by 49% (RR 0.51 [0.28; 0.92]; p= 0.0263) and significantly reducing treatment side effects by 47% (RR 0.53 [0.37; 0.77]; p = 0.0009).
Other studies support further investigation into this probiotic for oral candidiasis, eczema, feeding intolerance in premature babies, or hyperbilirubinemia in newborns.
 "Probiokid® is a real superhero for infant and child immunity, proven efficient to support immune system maturation and gut microflora. This comprehensive review recaps why it has been the most popular pediatric probiotic product in the World in the last decade" reminds Morgane Maillard, Product Manager, at Lallemand Health Solutions.
 Probiokid® Regulatory Status:
Probiokid® single strains have been authorized for use in infant food in China.
Both combination and single strains have been successfully notified as Generally Recognized as Safe (GRAS) to the United States (US) Food and Drug Administration (FDA) for non-exempt infant formula.
In Canada, the probiotic combination has been granted the following health claims:

helps to reinforce the body's natural defenses and participates to the microflora balance in children.
could promote a favorable gut flora and is a source of probiotics from three months old babies, up to older children.
To ensure both proper delivery to babies and children as well as proper survival of the bacteria during the complete shelf life of the finished products, Probiokid® is offered as a ready-to-market probiotic formulation in different convenient and leading formats such as bulk powder, sachets, orodispersible sticks and drops.
Read the full article here: https://www.mdpi.com/2072-6643/13/6/1908/htm
About Lallemand Health Solutions
Lallemand Health Solutions is a privately-owned Canadian company that researches, manufactures, and markets probiotic bacteria and yeast to nutritional and pharmaceutical companies that sell to the consumer and is a global leader of the probiotic industry with 600 formulas distributed in more than 60 countries. Lallemand Health Solutions is a research driven company and has an interest in innovative tools to evaluate the beneficial effect of probiotics in the human body and to understand the mechanisms of action of these microorganisms. www.lallemand-health-solutions.com
About the Rosell® Institute for Microbiome and Probiotics by Lallemand
The Rosell® Institute for Microbiome and Probiotics by Lallemand, Lallemand Health Solutions' research and development center located at the National Research Council of Canada in Montreal, develops partnerships with key scientific experts in order to study the human microbiome and how probiotic supplements can be used as a means to improve or maintain health in specific populations or health segments. The research team has issued over 330 publications including 160 clinical studies. www.rosellinstitutelallemand.com
Media Contact
Lallemand Health Solutions: Marilou Luneau, Content Manager mluneau@lallemand.com
This is business-to-business information not intended for the health professional and final consumer communications. It is based on our own research and development work and is, to the best of our knowledge, reliable. However, Lallemand does not assume any liability resulting from the use of its products, as conditions of use are beyond our control. The information provided should not be used as a substitute for any form of advice and in all cases, producers and marketers should check local regulatory requirements before use as different claims may be made depending on the regulations applicable in each country.
[1] Tremblay, A.; Xu, X.; Colee, J.; Tompkins, T.A. Efficacy of a Multi-Strain Probiotic Formulation in Pediatric Populations: A Comprehensive Review of Clinical Studies. Nutrients 2021, 13, 1908. https://doi.org/10.3390/nu13061908