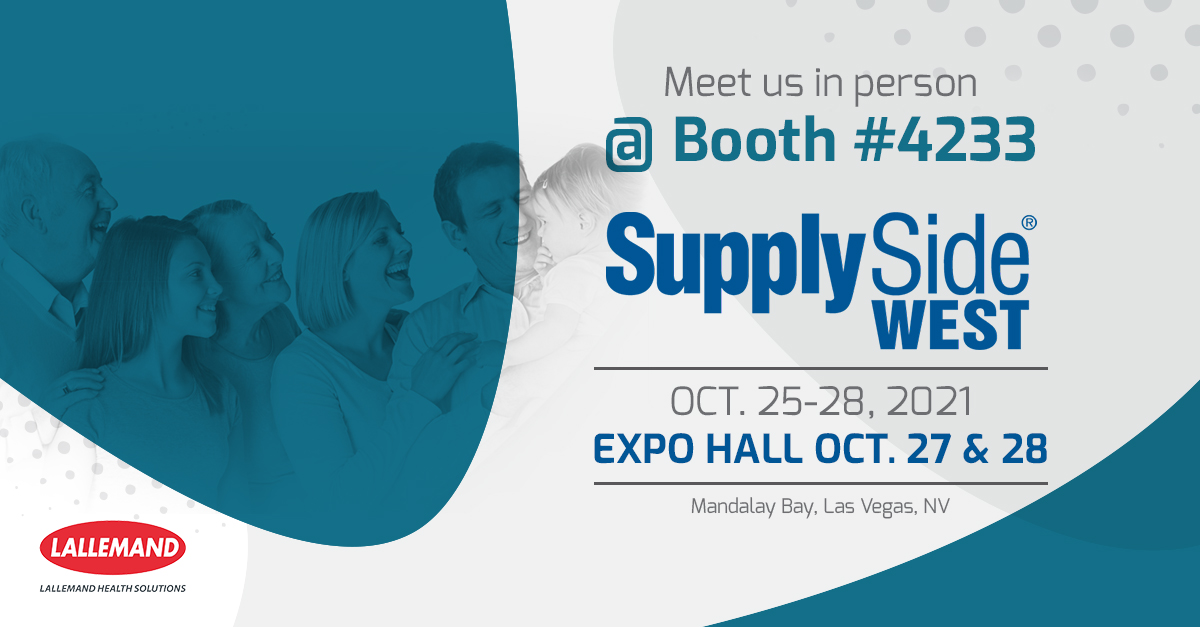 SupplySide West 2021:Breakthrough metabolic health study results and unique partnerships revealed
Lallemand Health Solutions' team is excited to get an occasion to meet you in person as SupplySide West and Food ingredients North America returns from October 25 to 28, 2021 in the Mandalay Bay, Las Vegas NV.
"The rising star that will steal the show this year is L. rhamnosus HA-114, involved in a robust metabolic health study", starts Mrs. Morgane Maillard, Marketing Group Manager." This strain has shown to support weight management effort in overweight adults undertaking a weight loss program. Indeed the results highlight the beneficial effects of the probiotic intervention on eating behaviors, mental health, and metabolic profile", she adds. This is a very innovative approach for the weight management market. We have submitted a patent leveraging the results of this breakthrough clinical study.
L. rhamnosus HA-114
The results of this recent randomized, double-blind, placebo-controlled clinical trial with L. rhamnosus HA-114 highlight new insights in overweight adults undertaking a weight loss program, reaffirm the applicability of the brain-gut axis concept and demonstrate the influence of this probiotic strain on psychological wellbeing among participants engaging in a caloric-restriction intervention.
"Now that this major event, gathering health and nutrition professionals, is back we will seize the opportunity to present our fresh partnerships with FrieslandCampina, Activ'Inside and Aventus", says Mrs. Isabelle Champié, Vice-president, Marketing, and Sales at Lallemand Health Solutions. "As expert in formulation, and always looking for innovative combinations, we are working with these ingredients' experts, to bring the best-in-class prebiotics, botanical extracts, probiotics formulations and applications, together to offer la crème de la crème to customers, worldwide. Come see us @ Booth 4233 to hear out the details", encourage Mrs. Champié.
Partnerships
FrieslandCampina Ingredients
FrieslandCampina Ingredients and Lallemand Health Solutions have partnered to launch two brand new gut health products. PRO-Digest Health Shot and PRO-Digest Bowel Support bring together best-in-class prebiotic and probiotic ingredients into single pre and probiotic products, that will enable companies to formulate gut health products.
Activ'Inside
Activ'Inside and Lallemand Health Solutions are going to present a unique combination of flagship probiotic formulation Cerebiome® with Safr'inside™ encapsulated saffron extract for complementary actions for mood and occasional stress-management.
Aventus Innovations
Aventus Innovations and Lallemand Health Solutions have signed a global agreement to grant Lallemand exclusive use of Aventus' flagship technology, NutraJIT®, for probiotic applications. NutraJIT® is a patented, all-natural innovative oral delivery platform, offering a unique combination of gastric protection and controlled release particularly suitable with active ingredients like probiotics.
SupplySide West is the premier gathering of health and nutrition professionals bringing together buyers and suppliers from throughout the industry. SupplySide events are all about the science and strategy around the development of finished products driving global business economy. Information and registration here.
 About Lallemand Health Solutions
From lab to shelf, Lallemand Health Solutions has the full control and expertise to produce premium probiotic solutions, blends, and custom formulations, as each development step is expertly supported by internal quality assurance, regulatory affairs, research and development, scientific affairs, technical support, and sales and marketing teams. EXPERT'Biotics are ready-to-market documented formulas supported by research and development from in vitro and in vivo models to clinical studies, with complete registration dossier and claims available, product training and communication tools.
***
MEDIA CONTACT
Marilou Luneau, Content Manager, Lallemand Health Solutions