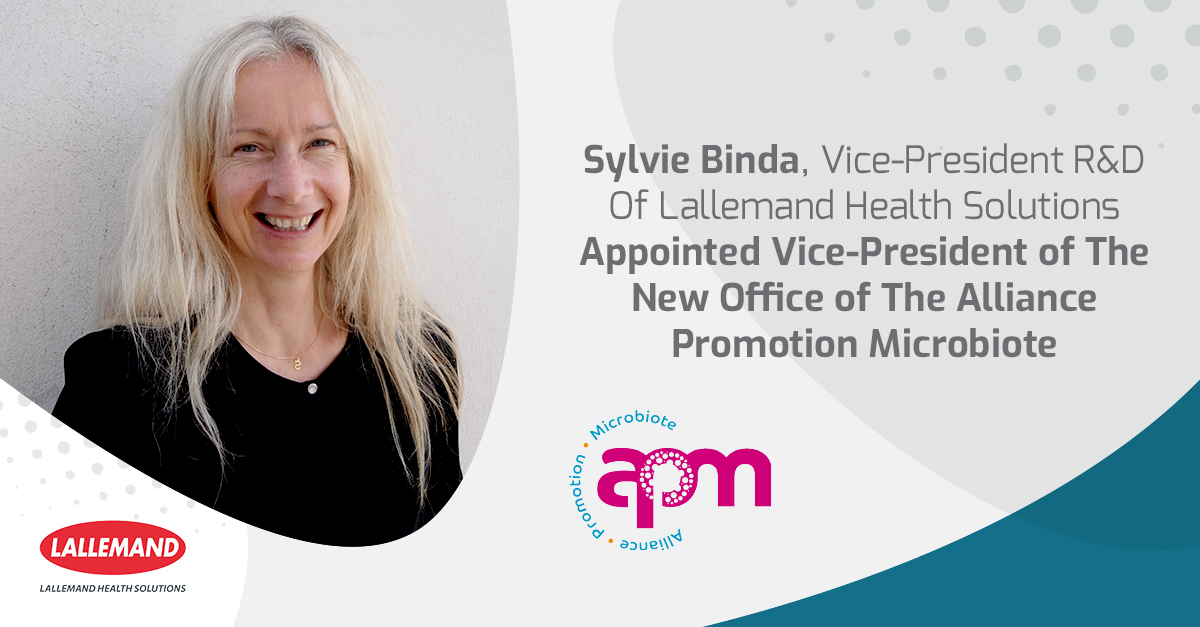 Sylvie Binda, Vice-President R&D of Lallemand Health Solutions Appointed Vice-President of The New Office of The Alliance Promotion Microbiote
Already a member of the board of directors of the Alliance Promotion Microbiote (APM), Sylvie Binda, Vice-President Research and Development of Lallemand Health Solutions, has been appointed Vice-President of the new office of the APM, following the General Meeting held on January 13, 2022.
The 11 members of the Board of Directors also elected Hervé Affagard, Managing Director and Co-founder of MaaT Pharma, as Chairman, Vincent Thomas, Director of the Microbiota Program at Bioaster, as Secretary and Adrien Nivoliez, Managing Director of Biose Industries, as as Treasurer. During this General Assembly, the APM also became an Association and continues to structure the French microbiota sector.
"It is with great enthusiasm that I accepted the role of Vice-President of the APM to allow the development of the Association and to continue on this good momentum. I fundamentally believe in the interest of groups that come together around a common ambition. With the cohesive management team, we will bring our diverse experiences closer to the ambitions of the sector in the interest of all our members. It is a source of great pride for me to have been recognized by the other members of the Board in this position and I am committed to support and promote our microbiota industry," says Sylvie Binda.
Read the APM press release on their Linked'in page.
***
About Lallemand Health Solutions
Since its inception in 1934, Lallemand Health Solutions has been a vertically integrated probiotics manufacturer specializing in the research, development and manufacturing of probiotic formulations produced in the highest quality certified state-of-the-art facilities. Over 600 probiotic formulas are currently marketed in over 60 countries on five continents. With its own Research & Development Center, the Rosell® Institute for Microbiome and Probiotics, Lallemand Health Solutions demonstrates a real scientific commitment. In collaboration with its partners and scientific experts, the Institut Rosell® relentlessly studies the human microbiome to see how probiotic supplements can be used as a means of improving or maintaining the health of specific populations or health segments, including gut health, immune health, mental health, women's health, skin health, oral health, sports and metabolic health. Lallemand Health Solutions probiotic strains have been documented in over 350 publications including 160 clinical studies.
MEDIA CONTACT
Marilou Luneau, Content Manager, Lallemand Health Solutions, mluneau@lallemand.com